Published Essays
Reunion of Past Students, Interns and Residents of Shaare Zedek's, Neuropsychology Unit
Peer Review Articles
Canavan disease--an expanded role for dentists.
ABSTRACT
American Academy of Pediatric Dentistry, Jerusalem, Israel.
Canavan disease (CD) is a progressive neurodegenerative disease that occurs predominantly but not exclusively in Ashkenazi Jews. It is characterized by a normal birth, rapidly followed by signs of lack of interest, hypotonia, and megalencephaly, resulting in early death. Genetic studies suggest that among Ashkenazi Jews the carrier frequency is between 1/35 and 1/59. Dentists aware of CD can assist in the treatment of infants and children afflicted with this disorder. Early dental treatment may support parents and siblings in caring for the child with CD and help create good family dynamics.
Read more...
Dr. Judith Guedalia - Bio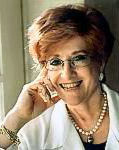 Dr. Judith Guedalia, director of Shaare Zedek Medical Center's Neuropsychology Unit, applies her psychological and neurological training to understanding how physiological dysfunction affects behavior in order to provide psychotherapy for patients with or without neurological problems.  Among the many symptoms the Neuropsychology Unit has treated are emotional trauma, anxiety, depression, parenting and family issues, stress, children of divorce, self-esteem, patient adjustment to neurological or cognitive problems, adjustment to chronic illness, family adjustment to and coping with a member's illness and adjustment to developmental disabilities.
 
Dr. J.B. Guedalia, as Senior Medical Psychologist, is also a member of the ER (Emergency Room) Trauma Staff in times of Mass Community Events (MCE, or ARAN the Hebrew acronym) and has acquired much experience in the treatment of Acute Stress and Trauma.  Dr. Guedalia is a licensed EMDR (a Cognitive Behavioral Therapy intervention) Therapist and is in the process of completing the requirements to be a supervisor of other EMDR therapists.  Dr. Guedalia is the founder and co-chair of Nefesh Israel, the Israeli branch of the NEFESH International Organization the Networking Association for Orthodox Mental Health Professionals.  She has published in peer review journals in both Neuropsychology and the Judaism and Mental Health.  She is also a regular columnist for The Jewish Press, the American's Largest Independent Jewish Weekly.

 

Judith S.B. Guedalia, PhD, was born in New York City, has studied and worked in: New York, NY;  London, England; Holyoke, MA; Los Angeles, CA and Jerusalem, Israel (since 1980).